Every once in a while I run into someone who tells me that they have it all going on.  They've got a blog, a newsletter or ezine, Twitter, Facebook, and they are all integrated.  "I'm really into Social Media!  It's a great tool and it keeps me connected," they tell me.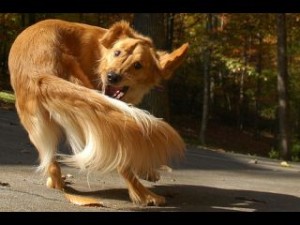 But what I have found over and over again is that it is their Social Media that is connected – to itself.  This is how it goes – they put out a blog post, this automatically generates a Tweet and a Facebook post announcing the new blog post with the name of some automation service appended to it, then on the blog itself is a column with their Twitter and Facebook feeds which are announcing – guess what? – that they have a new blog post.   Next they take the exact same content and drop it into their Constant Contact account and out goes that email newsletter.
Really?  Isn't this a little like a dog chasing its tail?  Why does the same thing have to be posted over and over and who is reading it?  Quick, don't forget to blast it out on LinkedIn too!
And so very often, what is being sent out is some canned verbiage of only the slightest interest to anyone with a few recycled affirmative statements or vague economic predictions.
Stop the madness.  Really.  Disassemble all of that right now.  Because I said so.  Each of those Social Media tools are exactly that – a tool.  Each has some specific strengths and abilities that the others don't.  You wouldn't take turns hitting a nail with a screwdriver and a hammer would you?  Then don't distribute the same information on Twitter and Facebook unless there is a good reason.  Put the tools back in the toolbox, take them out one by one and see what they do, then use them judiciously.  And remember what your Mom said about not saying anything if you can't say something nice?  Well in the world of business Social Media I am going to amend that.  Don't say anything if you can't say something that matters.  That makes a difference.  That informs.  That inspires.  That says something.
Not sure what to say or where to say it?  Call us at 904-392-7691 or 386-385-4743.  We're here to help.